Simian Real Time Video Encoder 2.0
Minimum System Requirements:
OSX Mountain Lion and higher
Window 7 or higher.
File Types supported:
Most video formats, .JPG, .GIF, .PNG, .MP3, .PDF
Download and Setup:
MAC OSX - RTVE2
Windows RTVE V2
1. Download RTVE2
2. Required Login information:
ACCOUNT-SPECIFIC SIMIAN URL (http://yourCompany.gosimian.com),
USERNAME
PASSWORD
3. Choose an UPLOAD location or ENCODE to desktop.
NOTE: Encoding queues of 25 videos or less are recommended for best performance.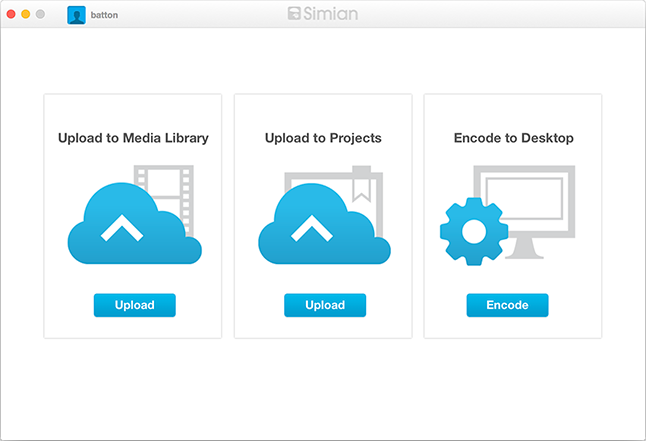 ENCODING TO DESKTOP
1. Select all files to be encoded, then simply DRAG AND DROP them into the RTVE2
NOTE: By default, encoded files are saved to "USERS > [COMPUTER NAME] > SIMIAN RTVE OUTPUT. To change the save to destination, click SAVE TO and select a different folder.
2. Once complete, select SHOW IN FINDER to locate the encoded files.
UPLOADING FILES TO SIMIAN ACCOUNT
• UPLOAD TO MEDIA LIBRARY > Optionally add CATEGORIES, CREDITS and TAGS.
• UPLOAD TO PROJECTS > Select a destination PROJECT and FOLDER > Optionally add FILE DESCRIPTION or TAGS.
1. VIDEO ASPECT RATIO can be changed from the DROP DOWN located to the right of the video title in the UPLOAD MEDIA FILES section.
NOTE: Checking PRESERVE ORIGINAL will create an encoded, playable proxy file, however, the original uploaded file will available by download.
2. Select UPLOAD FILES to encode/upload. A progress bar will appear.